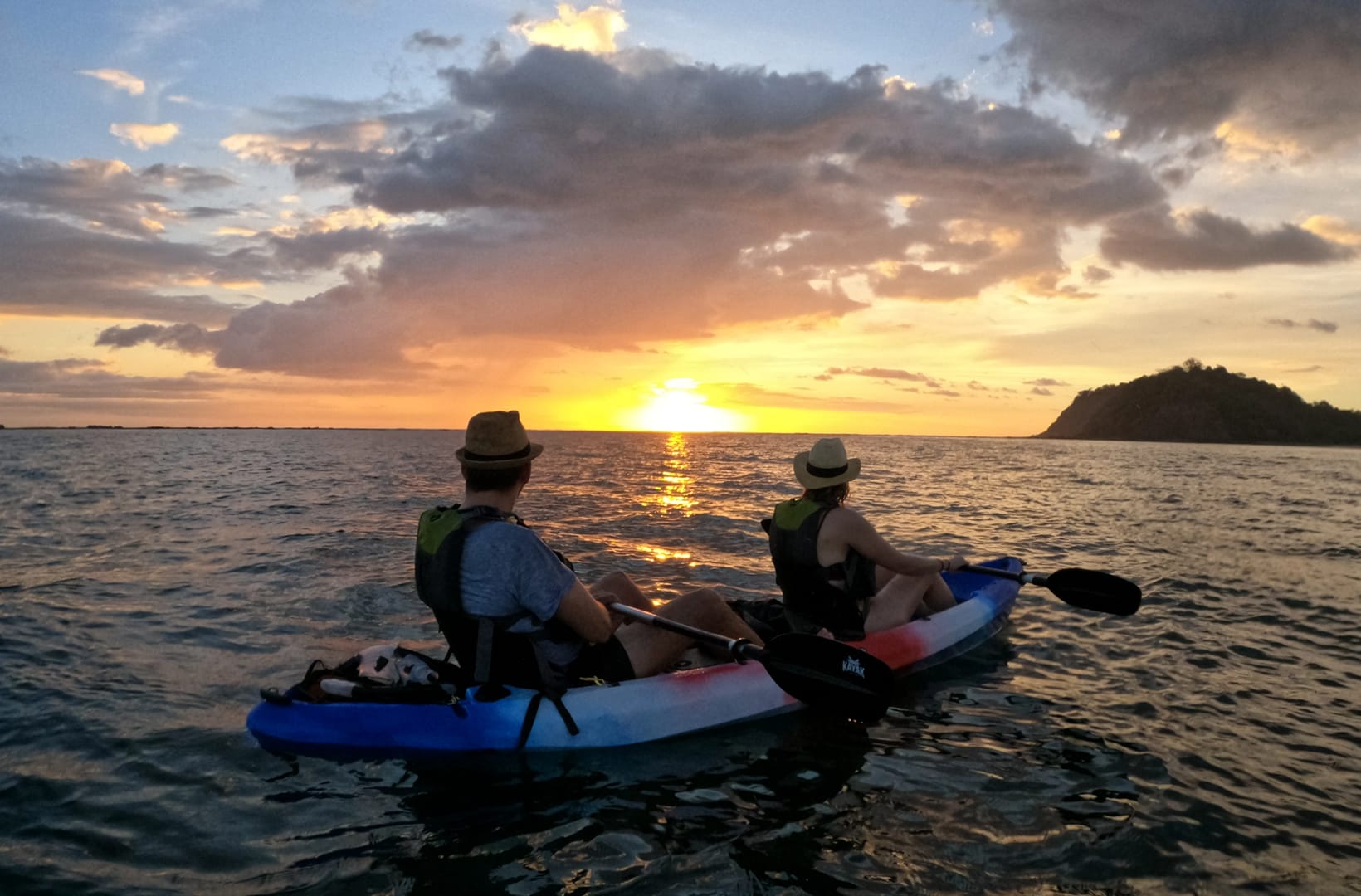 Embark on an unforgettable nature and wildlife adventure in or around Playa Sámara, Costa Rica!
Our reservation form below let's you choose a range of options, from a 1.5-hour excursion to an overnight trip, so you can plan the perfect experience for you. If you do not yet know the exact details of the tour, you can choose the desired date and decide the rest later.
Don't miss out on the opportunity to explore the stunning natural beauty of the Sámara area and surroundings with our expert guides.
Ready to book your adventure with us? Get started by filling out our tour reservation form!
Note: After submitting our reservation form, Berny will send you an email with more details about your desired tour and a payment link to finalize the booking once you are ready.
Highly recommended tour, unforgettable! Turtle tour in the evening was just a great experience. On the way to Corozalito Beach Berny pointed out a crocodile in the river. He also explained a lot about the nature and specially the turtles. It was very interesting to see how the turtle came from the sea to the beach to lay her eggs and go back to the sea, a duration of around 35 minutes. Then we got fresh ananas and drinks. Guide Berny and driver Osvaldo were very interested that the group (13 persons) has a memorable trip. And this is it for me.
Une entreprise extraordinaire! Le guide Berny est extraordinaire. Il donne beaucoup d'informations et s'assure que tout le monde est satisfait tout en respectant la nature. Boissons et fruits inclus! Service exceptionnel!
Wonderful Turtle nesting experience My 6 year old daughter and I went to see the turtle nesting experience with Berny. He was a knowledgeable and experienced guide teaching us all about the different species and turtles in the area. We got to see a turtle lay her eggs, full process start to swim back to the ocean. Berny was super patient and attentive to questions from young and old. It was a great tour!!! Highly recommend!!!
Turtle tour with Berny We booked a turtle nesting tour with Berny Castillo and he did not let us down!! We had a great tour, got to see the turtle clump out of ocean walk across the beach, dig her hole and lay her eggs. Then she covered it all up with sand and slowly made her way back to the sea. It was a beautiful clear night, with all the stars out. At the end of our tour Berny had cold refreshments for us including fresh pineapple and watermelon. Berny is very experienced and knowledgeable and also helpful and pleasant. It was an experience I will always remember
Turtles nesting tour We went with Bernie to see turtles laying eggs at night and we saw many turtles almost 7, and 4 laying eggs. Bernie is very nice, he knows a lot about animals and turtles and he explains very well! We were a family of 4 people with 2 kids of 5 and 8. Highly recommended!
Turtle tour We really enjoyed our tour with Berny! He is super knowledgeable and attentive, gladly answering all questions and very respectful of nature. We would definitely recommend doing their tours to anyone and are already looking forward to our next one!
Escape08885330608
2023-05-20
The best nature guide in Costa Rica Berny, the owner of Sámara Nature Tours and a native of Samara is the best guide we've had in our five month visit to Costa Rica. He is a former English teacher and now teaches guests his vast knowledge of plants and animals here in this beautiful country. We did the Palo Verde boat tour with him and we were very impressed and pleased. Just wish we'd found him at the beginning of our one month stay in Samara and not near the end.
Freedom68323094553
2023-04-16
Great private tour with Berny! My friend and I enjoyed a superb time with our guide Berny and the driver Bernardo. Berny is a very experienced and knowledgeable guide. He is so patiente and reaady to answer and explain every question. Berny is aleays on time and well organized. Just an amazing person! We saw so many wild animals and marveled at Berny's skills to spot them from far away. It was a extremely great and fun time and I recomend Berny to anyone going to Sámara. 😍
Excellent experiences with Nature Tours Samara We took 2 excursions with this company. The first was a birdwatching excursion for a group of 3 people. Berny's ability to spot birds was amazing. He spotted many beautiful birds including a tiny cinnamon hummingbird from many meters away! He was very knowledgeable, passionate and had a lovely, gentle manner explaining bird behaviour and habitat to us. The second excursion was to the Monteverde Cloud Forest. Berny was unable to accompany our group of 8, but he arranged for an excellent guide, Francisco, and driver, Baldo. Francisco was very personable and very knowledgeable and shared a lot of very interesting information about Costa Rica with us. Baldo navigated the narrow windy roads expertly. Berny also arranged transportation for our group of 12 from our hotel in Samara to the Liberia airport. Apparently buses were hard to get that day, but he found one which was big enough for 50 people, so we all got our own window seat! Brilliant! I highly recommend Berny and Nature Tours Samara. You won't be disappointed.
Amazing!!!! We booked Berny for a 2 night excursion to Arenal Volcano. He took care of everything! Very knowledgeable, fun and professional. We had only one stipulation, no animals in captivity and he delivered 100% There were 4 in the group and we had a great time His ability to spot wildlife was amazing. I also really liked that the guides all seemed to point things out to each other which makes everyones experience better His driver was also funny and professional, thanks Alejandro for getting us there and back safely. Highlight for me was definitely Arenal hike and the night walk. So much to see at night. He also booked.us a dinner at an incredible hotel at the base of the Volcano, we all agreed it was magnificent. Thank you for all the wonderful memories and photos
We offer flexible payment options – making your tour booking an easy one.
Credit Card
We accept Visa, Mastercard and American Express! When paying by credit card, the local VAT tax will be added to our prices.
In Cash
We accept cash payment in either USD or Colones. Please make sure that the bills are in very good conditions.
Want to meet us in person before you book?
Meet us on the beach in Sámara